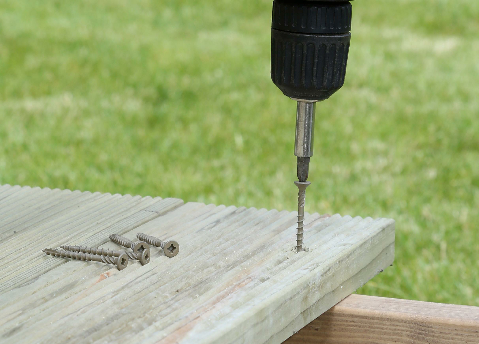 Performance Decking - Hit The Decks With Samac's New Screw
HIT THE DECKS WITH SAMAC'S NEW SCREW
The latest addition to Samac's Performance Range is the Performance Decking screw that is packed with features to make fixing decking fast, simple and secure.
Performance Decking screws have all the top quality features that make fixing soft and hardwoods simple, plus attributes that are especially pertinent to decking. A special serrated thread cuts through wood and reduces torque, while the Type-17 cut point reduces splitting and minimises the need for pre-drilling.
To make decking last for years without losing its appearance, there is a locking thread at the top of the Performance Decking screw which secures the screw to the decking board to prevent movement. A special ACQ corrosion-resistant coating is unaffected by the treatments found on some decking boards and will withstand a minimum of 1000 hours on a salt spray test. The screws are a natural brown colour to give an appealing, professional finish to any decking project.
The Samac Performance Decking screw is available in 50-80mm lengths in handy flip-top tubs and every tub comes with a free pozi square driver bit to ensure a tight secure fit with the screws versatile pozi square head.
Samac is a specialist nails, screws and fixings distributor based in Essex with one of the widest ranges of products in the trade. Established since 2004, Samac supplies builders, timber, roofing & fencing merchants with a comprehensive range of products that is now so much more than the nails for which the company first became known.