Polyurethane Foams & Adhesives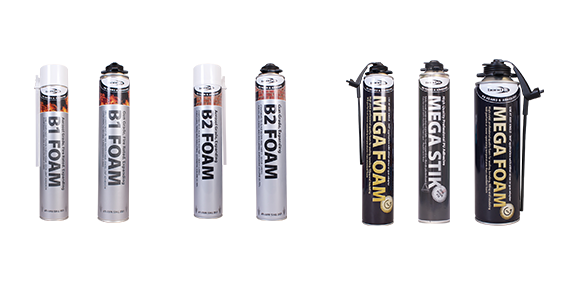 B1 FIRE RESISTANT EXPANDING PU FOAM
A high performance, polyurethane expanding foam, fire rated and tested to BSEN 1366-4 and BS476 Part 20 (the most stringent test for fire rated products)
B2 EXPANDING PU FOAM
B2 rated polyurethane foam filler. The cured foam is a good temperature and sound insulator, and has strong adhesive properties.
B3 FILL AND FIX EXPANDING PU FOAM
PU foam based on a moisture curing polyurethane pre-polymer.
EXPANDING FOAM GUN CLEANER
A dual purpose, solvent-based solution for effective cleaning of expanding foam applicator guns and removal of wet/uncured foam.
MEGA FOAM PU EXPANDING FOAM
A high performance, polyurethane expanding foam available for use as an aerosol grade using patented adaptor or by simply fixing a gun applicator can be used as gun grade.
PU WOOD GLUE
One-part moisture cure polyurethane adhesives specially formulated for waterproof bonding.