Plasterboard Fixings, Spring Toggles + Cavity Wall Fixings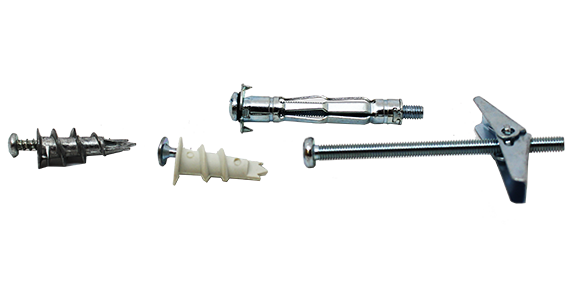 Plasterboard Fixings Metal / Nylon One piece self-drilling anchor designed for fastening light / medium loads to plasterboard. For use in plasterboard, simply screw using a normal or power screwdriver. The point drills a pilot hole followed by a coarse, specifically designed helical thread biting into the plasterboard substrate making the fix. The separate screw is then used to mount the fixture.
Spring Toggles Used in cavity situations where a load spread over a large area is required. Manufactured from bright zinc plated steel with a spring activated toggle bar.
Cavity Wall Fixings - A BZP metal anchor which expands as the screw is tightened. Generally used in plasterboard walls.
Supplied boxed or in plastic bags where applicable with euroslots for hanging and labels with your own name.