Tapes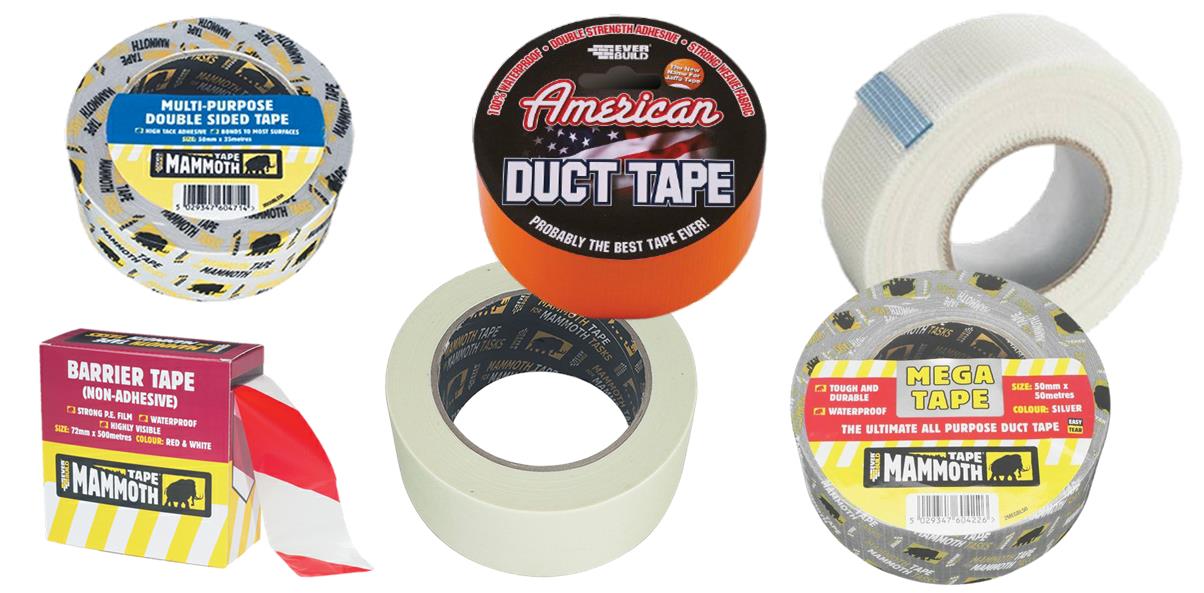 STANDARD Width Scrim Tape WHITE 90metre 48mm x 90metre Strong, flexible self-adhesive tape to cover plasterboard joints
SPECIAL Width Scrim Tape GREY 45metre 100mm x 45metre Strong, flexible self-adhesive tape to cover plasterboard joints
Masking Tape Value General Purpose General Purpose Trade Quality Masking Tape for conventional paint masking, can be left on for up to 3 days without leaving a residue. Loose packed rolls without individual film wrap or barcode.
Mega All Purpose Tape - 50metre The ultimate All Purpose Duct Tape, top quality cloth with aggressive natural rubber adhesive. Tough, durable and waterproof, for thousands of applications on site, in the home and industry, in the widest possible range of colours.
Multi-Purpose Double Sided Tape 25 Metre High tack multi-purpose double sided tape, bonds to most smooth surfaces and is ideal for securing many items to smooth surfaces, vertically and horizontally.
American Duct Tape MINI (JAFFA ORANGE) American Duct Tape (the new name for Jaffa!) has a multitude of uses including waterproofing and windproofing scaffolding, windows, doors and exposed roofing – it can also be used on vertical and overhead applications due to its unique hold strength. You can also use American Duct Tape to temporarily hold DPM, timber, guttering, sheet material or any other building material that needs to be held in place without the need to clamp. American Duct Tape will stick to most surfaces and substrates and can be used internally as well as externally.
Barrier Tape Red/White 72mm x 500m Super Strength Non Adhesive Polythene Barrier Tape supplied in tape dispensing box.