Bitumen & Roofing Products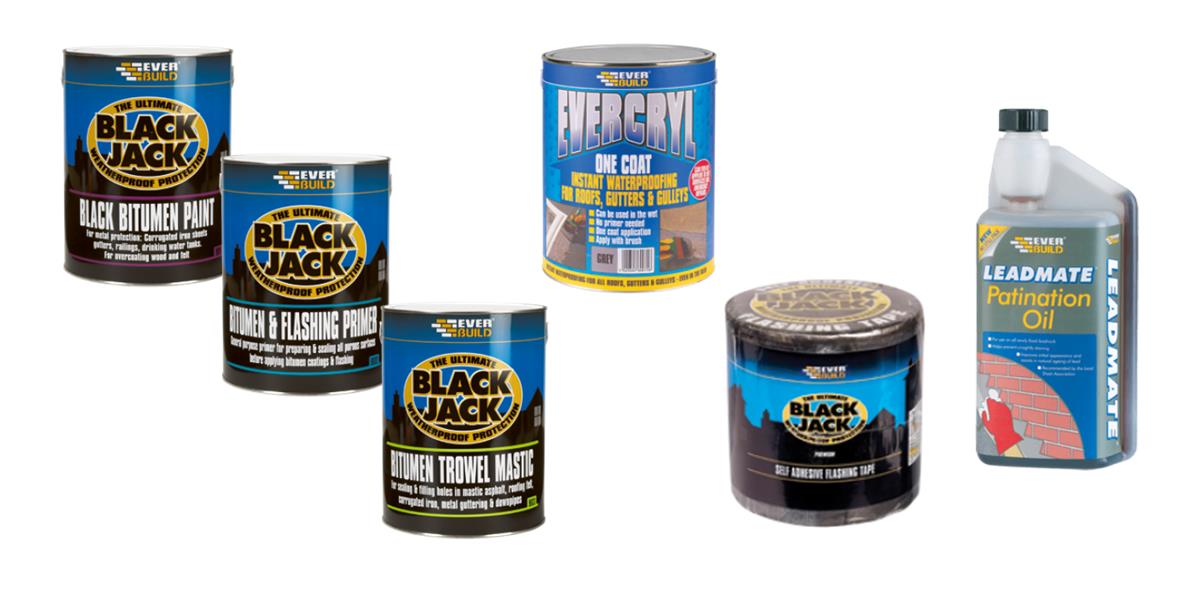 901 Bitumen Paint - BLACK JACK is a solvent based, full bodied black bituminous paint. When dry, the product forms an odourless and taint free black film suitable for metal protection, and overcoating wood and felt.
902 Bitumen & Flashing Primer - BLACK JACK is a thin black primer used to give a key prior to applying bitumen paints, roof coatings and flashing.
903 Bitumen Trowel Mastic - BLACK JACK is a trowel applied black heavily filled bituminous compound with added fibres for reinforcement. The product forms a surface skin, but the mass below remains soft to allow for moderate movement. Suitable for sealing and filling holes in mastic asphalt, roofing felt, corrugated iron, metal guttering and downpipes.
904 Roof Felt Adhesive - BLACK JACK is a cold applied, oxidised bitumen based adhesive used to bond roofing felt to most surfaces. Specifically designed for bonding all types of roofing felt to metal, concrete and timber, sealing felt laps and as a cold gritting solution for bonding mineral chippings.
905 All Weather Roof Coating - BLACK JACK is a solvent based, full bodied black brushable bitumen compound with added fibres for reinforcement. It is an effective general purpose roof coating that is resistant to wash off by rain almost immediately. The product is specifically designed for general waterproofing in all roofing applications, guttering (non plastic) and structural steelwork.
908 DPM - BLACK JACK is an odourless rubber enriched bitumen emulsion which provides a highly effective sandwich damp proof membrane for floors. Also acts as a waterproofer for walls, above ground structures and foundations. DPM is also suitable as an adhesive for wood block and mosaic panels, insulation boards, expanded polystyrene, cork and as a plaster bonding agent, even on difficult surfaces.
Flashing Trade Roll 10m - BLACK JACK Self Adhesive Flashing with natural lead-look finish.
Evercryl One Coat is a resin based, fibre re-enforced roof repair compound which is effective on all common roofing surfaces, giving instant roof repairs even in the wet and on wet surfaces. May also be applied in frosty conditions down to -5°C. Evercryl is instantly waterproof when applied, there is no fear of wash off so emergency leaks can be tackled immediately as there is no need to wait for the rain to stop.
Evercryl Emergency Roof Repair in a cartridge is an emergency repair aid for the use on external roofing applications. The Evercryl formula has been gelled up to allow it to be cartridge applied while still containing the top quality fibres that you expect with Evercryl. The product is applied through a special 'duck bill' shaped nozzle ideal for emergency repairs to gaps, cracks and holes in roofs, gutters, flashing, upstands and felt. It even works in wet conditions so there is no need to wait for the rain to stop.
Patination Oil Lead Mate Patination Oil has been specially formulated to provide a protective coating for newly installed lead work that helps to prevent the white carbonate staining that affects new lead and surrounding tiles, brickwork, stonework etc. Just one coat of Patination Oil also helps to provide a uniform, attractive appearance to newly installed lead and helps the ageing process whilst the natural patina of the lead is being formed. It is particularly important to treat areas of newly installed lead that are subject to water flowing over the surface onto surrounding areas as staining of tile and brick will be more severe in such circumstances. The no spill pack means no more spills or drips to clean up, and easier application.